Simple one-touch scanning experience
ScanSnap iX1400 is equipped with simplicity and does not compromise on speed and image quality. Users are able to experience scanning with the push of one-button. It is a simple and secure model that comes with USB connectivity that allows customers to scan in environments where use of Wi-Fi is limited.
Simple operation with just one-button
Equipped with USB connectivity, hence removes the worry on Wi-Fi availability
Speedy scan up to 40 ppm/80 ipm (A4-size documents, color, 300dpi)
50 sheets Automatic Document Feeder (ADF)
Ultrasonic Sensor and high-quality Brake Roller for stable feed
Receipt Guide provides stable scanning for inconsistent paper sizes
Streak Reduction producing clean images
Best experiences with ScanSnap Home
Conventional software ScanSnap Manager also available
Simple operation with USB connection
ScanSnap iX1400 is the model dedicated to providing a simple, one-touch experience. It scans with a single touch of the button, with no compromises on performance and image quality.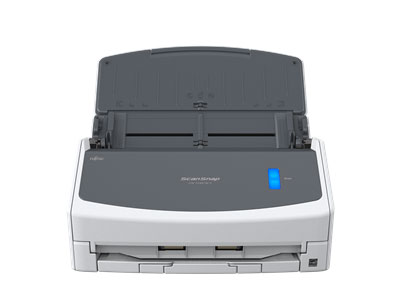 Leave behind the worry of Wi-Fi connectivity
Equipped with USB connection, the device scans to the computer so that users do not need to worry about network availability.
Stress-free usability for any users
The iX1400 comes with an intuitive interface that is easy to use and provides you with a peace of mind while you carry out your tasks.
Steady and versatile paper feeding
Inheriting the Ultrasonic Sensor and the Brake Roller from our business scanners, the iX1400 continues to provide superior reliability for various paper types. Each paper is fed individually to prevent feeding errors.

Have images clean all the time
The iX1400 produces consistent, high quality and clean images. Even if streaks do appear on scanned images, the Streak Reduction function removes them, reducing the hassle of time-consuming rescans.

Scan receipts and much more
The iX1400 can scan small documents easily with the Receipt Guide. No need to be concerned about fixing receipts and business cards that tend to curl or skew. Designed to be a comfortable fit even when the cover is closed, it reduces handling of documents before hitting the scan button.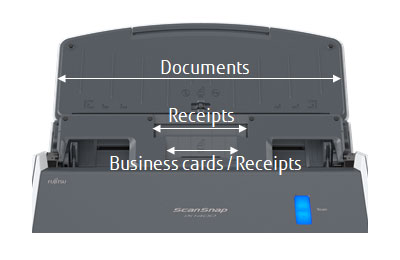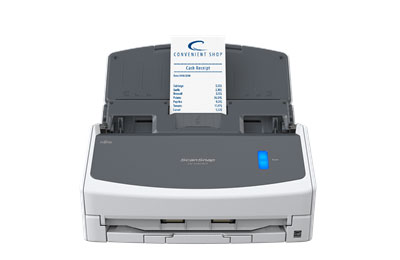 Best experience with ScanSnap Home
ScanSnap Home combines all your favorite functions into one and is the ultimate platform to utilize scanned data in various ways. Easily manage, edit and utilize data from documents, business cards, receipts and photos with the software. You can scan large volumes of various types of documents from color photos to double-sided landscape documents with a host of intelligent automatic image processing functions.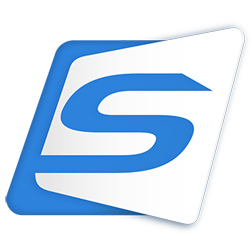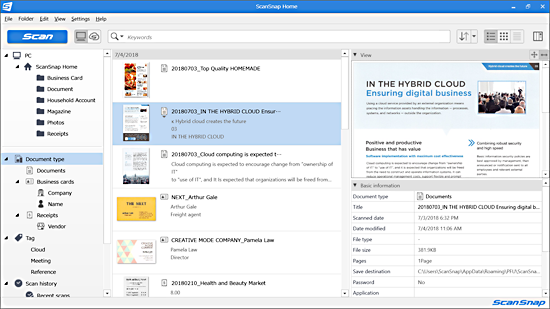 Spesifikasi Produk:
Product Name
ScanSnap iX1400 (White )
Scanner Type
ADF (Automatic Document Feeder), Duplex
Scanning Speed (A4 portrait)
Auto mode
Simplex / Duplex: 40 ppm
Normal mode
Simplex / Duplex: 40 ppm (Color / Grayscale: 150 dpi, Monochrome: 300 dpi)
Better mode
Simplex / Duplex: 40 ppm (Color / Grayscale: 200 dpi, Monochrome: 400 dpi)
Best mode
Simplex / Duplex: 40 ppm (Color / Grayscale: 300 dpi, Monochrome: 600 dpi)
Excellent mode
Simplex / Duplex: 10 ppm (Color / Grayscale: 600 dpi, Monochrome: 1,200 dpi)
Scanning Color Mode
Color, Grayscale, Monochrome, Automatic (Color / Grayscale / Monochrome detection)
Image Sensor
Color CIS x 2 (Front x 1, Back x 1)
Light Source
3 color LED (Red / Green / Blue)
Optical Resolution
600 dpi
Document Size
Normal Scan
Minimum 50.8 x 50.8 mm (2 x 2 in.)
Maximum 216 x 360 mm (8.5 x 14.17 in.)
Long Paper Scanning
3,000 mm (863 mm in 32-bit)
Paper Weight (Thickness)
40 to 209 g/m 2 (11 to 56 lb)
A8 or less: 128 to 209 g/m 2 (34 to 56 lb)
Cards: 0.76 mm or less (Compliant with the ISO7810 ID-1 type) (Includes embossed cards in landscape orientation)
ADF Capacity
50 sheets (A4, 80 g/m 2 or 20 lb)
Multifeed Detection
Overlap detection (Ultrasonic sensor), Length detection
Interface
USB
USB3.2 Gen1x1 / USB2.0 / USB1.1 (Connector Type: Type-B)
Power Requirements
AC 100 to 240 V, 50/60 Hz
Power Consumption
Operating Mode
17 W or less
Sleep Mode
1.5 W or less
Operating Environment
Temperature
5 to 35 °C (41 to 95 °F)
Relative Humidity
20 to 80% (Non-condensing)
Environmental Compliance
ENERGY STAR®, RoHS
Dimensions (W x D x H)
292 x 161 x 152 mm (11.5 x 6.3 x 6.0 in.)
Weight
3.2 kg (7.1 lb)
Driver
ScanSnap specific driver
Windows®: Does not support TWAIN / ISIS®
macOS: Does not support TWAIN
Software
ScanSnap Home (All-in-one document management software/driver)
ScanSnap Manager (Conventional driver)
ABBYY FineReader for ScanSnap™
Included Items
Safety Precautions, AC cable, AC adapter, USB cable, Receipt Guide
Driver & Downloads: