Balance size and performance
ScanSnap iX1300 is a compact, yet powerful solution to all your daily and ad-hoc scanning needs. Being compact and multi-functional, the iX1300 is the perfect model for a hybrid workstyle.
Offering two methods of scanning; U-turn Scan for continuous scanning and Return Scan for folded documents, cards, etc
Speedy scan up to 30 ppm/60 ipm (A4-size documents, color, duplex, 300dpi)
"one-touch" simple operations
Space saving for anywhere use
Equipped with Wi-Fi, connects to cloud services, mobile devices
Best experience with ScanSnap Home
Scans wirelessly, via a smart device, with ScanSnap Connect Application
Connect to ScanSnap Cloud without the PC
U-turn Scan for continuous scanning with an A4 size footprint
Equipped with a new ADF (Automatic Document Feeder) mechanism to eject scanned paper from the top, the iX1300 occupies approximately the same desk space as an A4 sheet of paper even when scanning and boasts a scan speed of 30 pages per minute.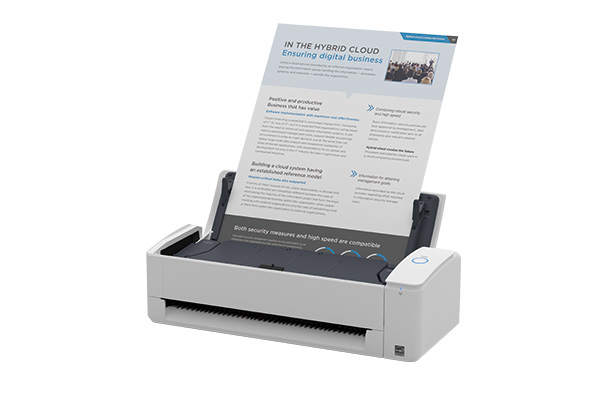 Return Scan, for plastic cards, receipts, bi-folded A3 documents
Feed the document from the front and receive back from the same location. Scanning is possible for multiple document types of thicknesses up to 2mm.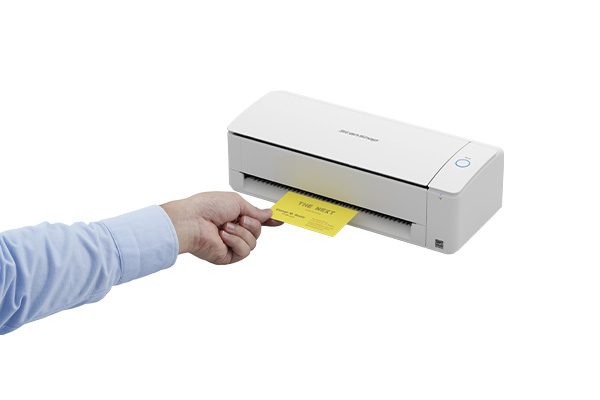 Compact and stylish for placement anywhere
A compact footprint makes the iX1300 an easy fit into any narrow space. Even with the cover opened, the device remains compact.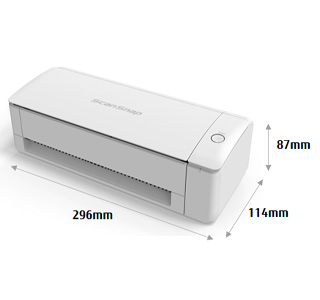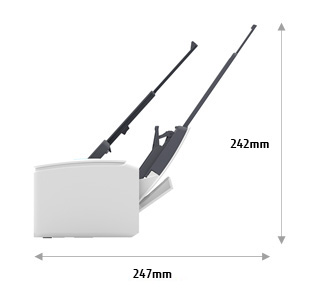 Wi-Fi enabled, for mobile, for cloud
Connect via wireless LAN at home or in office. Access via direct connection mode to scan without Wi-Fi. Supports Windows, Mac, iOS, iPadOS, Android, Chrome OS and Fire OS. Connect directly to the Wi-Fi and save your scanned documents to Cloud*.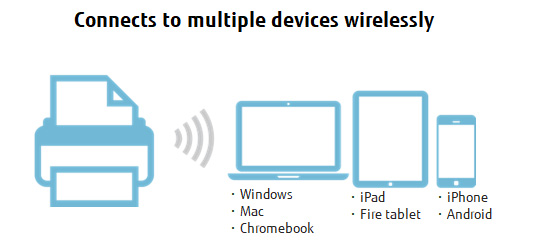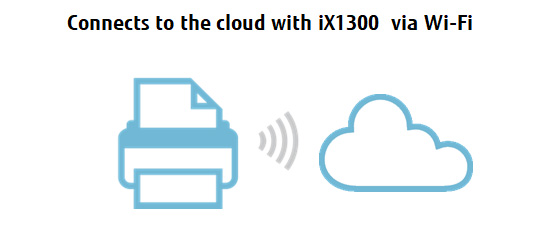 Best experience with ScanSnap Home
ScanSnap Home combines all your favorite functions into one and is the ultimate platform to utilize scanned data in various ways. Easily manage, edit and utilize data from documents, business cards, receipts and photos with the software. You can scan large volumes of various types of documents from color photos to double-sided landscape documents with a host of intelligent automatic image processing functions.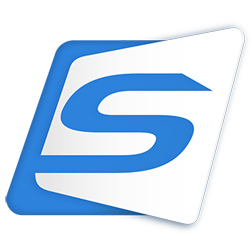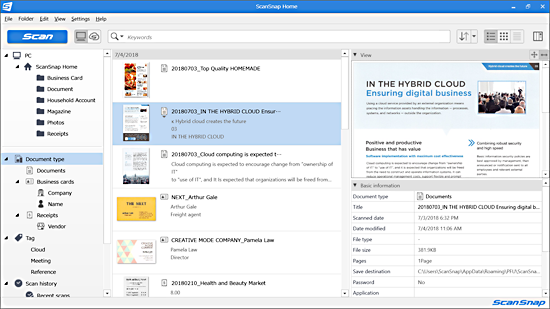 Spesifikasi Produk:
Product Name
ScanSnap iX1300
Scanner Type
ADF (Automatic Document Feeder) / Manual Feeder, Duplex
Scanning Speed (A4 portrait)
U-turn Scan (ADF)
Auto mode
Simplex / Duplex: 30 ppm
Normal mode
Simplex / Duplex: 30 ppm (Color / Grayscale: 150 dpi, Monochrome: 300 dpi)
Better mode
Simplex / Duplex: 30 ppm (Color / Grayscale: 200 dpi, Monochrome: 400 dpi)
Best mode
Simplex / Duplex: 30 ppm (Color / Grayscale: 300 dpi, Monochrome: 600 dpi)
Excellent mode
Simplex / Duplex: 9 ppm (Color / Grayscale: 600 dpi, Monochrome: 1,200 dpi)
Return Scan (Manual Feeder)
Auto mode
5 seconds (Color / Grayscale: 150 dpi, Monochrome: 300 dpi)
Normal mode
5 seconds (Color / Grayscale: 150 dpi, Monochrome: 300 dpi)
Better mode
5 seconds (Color / Grayscale: 200 dpi, Monochrome: 400 dpi)
Best mode
5 seconds (Color / Grayscale: 300 dpi, Monochrome: 600 dpi)
Excellent mode
14 seconds (Color / Grayscale: 600 dpi, Monochrome: 1,200 dpi)
Scanning Color Mode
Color, Grayscale, Monochrome, Automatic (Color / Grayscale / Monochrome*3 detection)
Image Sensor
CIS x 2 (Front x 1, Back x 1)
Light Source
3 color LED (Red / Green / Blue)
Optical Resolution
600 dpi
Document Size
U-turn Scan (ADF)
Minimum: 50.8 x 50.8 mm (2 x 2 in.)
Maximum: 216 x 355.6 mm (8.5 x 14 in.)
Return Scan (Manual Feeder)
Minimum: 50.8 x 50.8 mm (2 x 2 in.)*6
Maximum: 216 x 355.6 mm (8.5 x 14 in.)
With Photo Carrier Sheet (Option)
Minimum: 25.4 x 25.4 mm (1 x 1 in.)
Maximum: 127 x 178 mm (5.0 x 7.0 in.)
With Carrier Sheet (Option)
Minimum: 25.4 x 25.4 mm (1 x 1 in.)
Maximum: 297 x 431.8 mm (11.69 x 17 in.)
With Booklet Carrier Sheet (Option)
Minimum: 25.4 x 25.4 mm (1 x 1 in.)
Maximum: 150 x 195 mm (5.9 x 7.67 in.)
Long Paper Scanning
PC
3,000 mm (863 mm in 32-bit)
Smart Device / Cloud
Duplex: 863 mm
Simplex: 1,117 mm
Paper Weight (Thickness)
U-turn Scan (ADF)
40 to 128 g/m² (11 to 34 lb)
A8 size or less: 128 to 209 g/m² (34 to 56 lb)
A6 size or less: 40 to 209 g/m² (11 to 56 lb)
Return Scan (Manual Feeder)
Paper: 20 to 413 g/m² (5.4 to 110 lb)
Booklets: 2 mm (0.08 in.) or less
Cards: 1.4 mm (0.06 in.) or less
(Includes embossed cards)
ADF Capacity
20 sheets (A4, 80 g/m² or 20 lb)
Multifeed Detection
Length detection
Interface
USB
USB 3.2 Gen1x1 / USB 2.0 / USB 1.1 (Connector Type: Type-B)
Wi-Fi
IEEE802.11a/b/g/n/ac
Frequency band: 2.4 GHz / 5 GHz
Wi-Fi Interface
Connection Mode
Access Point Connect Mode (Infrastructure mode)
Direct Connect Mode (Ad-hoc mode)
Security
WEP (64bit / 128bit), WPA (TKIP / AES), WPA2 (AES), WPA-PSK (TKIP / AES), WPA2-PSK (AES)
Easy Installation
WPS2.0
Rated Power (EIRP) (North America)
2.4 GHz: 11b: +23.5dBm / 11g: +22.0dBm / 11n/ac: +22.0dBm (20 / 40MHz)
5 GHz: 11a: +15.5dBm / 11n/ac: +16.5dBm (20MHz)
Rated Power (EIRP) (Others)
2.4 GHz: 11b: +19.0dBm / 11g: +20.5dBm / 11n/ac: +20.5dBm (20 / 40MHz)
5 GHz: 11a: +15.5dBm / 11n/ac: +16.5dBm (20MHz)
Power Requirements
AC 100 to 240 V, 50/60 Hz
Power Consumption
Operating Mode
17 W or less
Sleep Mode
USB connected: 1.7 W or less
Wi-Fi connected: 2.0 W or less
Standby Mode
0.3 W or less
Operating Environment
Temperature
5 to 35 °C (41 to 95 °F)
Relative Humidity
20 to 80% (Non-condensing)
Environmental Compliance
ENERGY STAR® / RoHS
Dimensions (W x D x H)*15
296 x 114 x 87 mm (11.7 x 4.5 x 3.3 in.)
Weight
2.0 kg (4.4 lb)
Driver
ScanSnap specific driver
Windows®: Does not support TWAIN / ISIS®
macOS: Does not support TWAIN
Software*16
ScanSnap Home (All-in-one document management software/driver)
ScanSnap Manager (Conventional driver)
ABBYY FineReader for ScanSnap™
Included Items
Safety Precautions, AC Cable, AC Adapter, USB Cable
Driver & Downloads: